Crafting Culinary Elegance
 Where Black Diamonds of Flavor Illuminate Every Occasion!
Sit down, relax, let us cook!
Located in the heart of Keystone, CO, Black Diamond Gourmet is your premier destination for full-service catering that will leave an indelible mark on your cherished moments. Our exceptional team of culinary artists is dedicated to crafting a dining experience that goes beyond your expectations, creating memories that will linger on your taste buds and in your heart.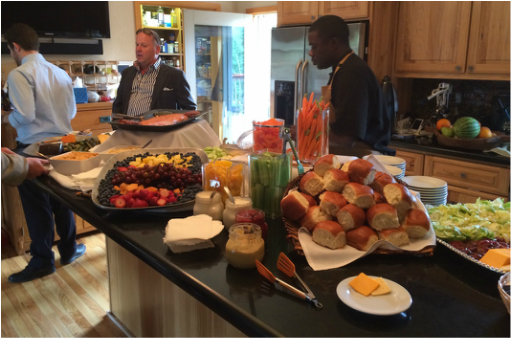 At Black Diamond Gourmet, we understand that your wedding or special event deserves nothing less than perfection. Our team of passionate chefs will work closely with you, pouring their creativity and expertise into every detail, ensuring that every dish we serve reflects the essence of your vision and personal tastes.
Delighting in the art of culinary storytelling, we specialize in captivating buffet stations that seamlessly blend elegance and casual charm. From the enchanting rehearsal dinner to the delightful day-after brunch buffet, we take pride in curating an array of exquisite dishes, each bursting with flavor and finesse.
Leave your worries behind, as our culinary team arrives at your chosen venue fully equipped with top-of-the-line essentials, including linens, china, and other dinnerware. We are committed to transforming your dream day into a reality, leaving no stone unturned to ensure a flawless and unforgettable experience.
At Black Diamond Gourmet, we believe that exceptional food experiences should be accessible to everyone. Our talented team of chefs meticulously crafts each dish to tantalize taste buds and redefine perceptions of plant-based cuisine. Our mission is to create a culinary journey that excites and satisfies, proving that vegan dining can be not only health-conscious but also an indulgent adventure of flavors
Life's Finest Celebrations
From drop-off to Full-service
Full-Service offers an impeccable dining experience, allowing you and your guests to relish delightful conversations while our attentive and skilled wait staff tends to your every requirement. For a more relaxed option, you can opt for our convenient drop-off catering service, which ensures a delectable meal delivered straight from our kitchen to your doorstep, sparing you the hassle of creating a mess in your own kitchen.
Have some menu ideas already? Check out our online menu and submit a request. Please note - prices are not final as each order is customized. Minimum orders may apply.
Clients Rave About Black Diamond Gourmet!
Black Diamond Catering is amazing! Not only is the food delicious (our guests are still raving about it!), but they went above and beyond with service and flexibility. Great people all around, exactly who you want at your wedding!
★ ★ ★ ★ ★
Erin G.
We used Black Diamond Catering for cater our destination wedding in Colorado. The team was a blast to work with. they made sure appetizers and everything was ready to go by the time we arrived back at our cabin after the ceremony. They went above and beyond in the service aspect but the food..... The food was amazing! I couldn't believe how good the herb crusted beef was. There was leftovers that we took home with us because they were just too good to waste. I'd highly recommend to anyone needing catering! you wont be disappointed!
★ ★ ★ ★ ★
Rondalyn R.
Food and service was exceptional! Andre and his team are A+ in the catering industry from the appetizers to the entrees! All of our guests did not leave hungry without a doubt! We appreciate you putting your heart and soul into this part of our wedding 🙂 Do yourself a favor and look no further than Black Diamond!
★ ★ ★ ★ ★
Danielle P.